CUBETO Color 30 stone gray
CUBETO Color 30 stone gray All-in-One Set
A new eye-catcher on your patio
The flat shape of the CUBETO bowl planter offers room for creative plant arrangements. Its classic contours and natural stone look make the new bowl planter extremely versatile.
All-in-One Set includes

planter + planter liner + sub-irrigation set
The original LECHUZA sub-irrigation system
LECHUZA's sub-irrigation system takes care of your plants for you for up to 12 weeks, ensuring that they receive the right amount of water and nutrients they need for optimum growth.
Room for creative plant arrangements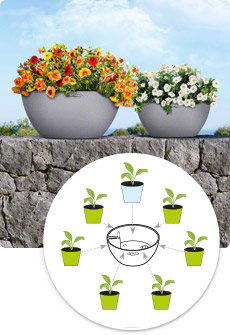 Space for up to seven plants
Surface in natural stone look
In sizes 30 and 40
Colours come in stone grey, sand beige and graphite black