CUBICO Cottage 30 white All-in-One Set
column planter with wicker style
Its exceptional versatility makes the tall CUBICO Cottage column planter a favorite decorative element for patio arrangements. And, thanks to the optional coasters, your plants are still mobile in the CUBICO planters, even outdoors.
CUBICO coaster: Coasters for CUBICO 30 and 40 are available in black.
All-in-One Set includes

planter + planter liner + sub-irrigation system
CUBICO planter liner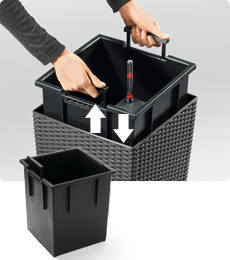 sturdy carrying handles (patented)
easy transport even for tall plantings
can be exchanged on the spot and easily moved for winter storage
The CUBICO 30 planter liner also fits in the TRIO 30 and the CUBICO 40 planter liner fits in the CUBE 40 as well as the CUBICO Alto and TRIO 40.
drain plug is removed to allow excess rainwater to drain when used outdoors
The original LECHUZA sub-irrigation system
LECHUZA's sub-irrigation system takes care of your plants for you for up to 12 weeks, ensuring that they receive the right amount of water and nutrients they need for optimum growth.
available accessories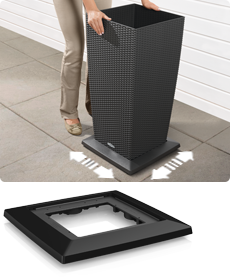 CUBICO coaster
mobile in every direction
with four sturdy rollers
available for CUBICO 30 and 40