CUBICO 40 warm ice
Sophisticated and exclusive for refined tastes
As a standalone planter or in an arrangement, the CUBICO Premium sets bold accents in apartments, lobbies, and business zones, and thanks to its subtle colors and various sizes it can be tastefully combined anywhere. A stylish design statement for the premium class! And with the CUBICO coaster, the planter is mobile even when planted.
Unique advantages:
Planter liner and sub-irrigation set included
Coasters available for CUBICO 30 and 40
Product information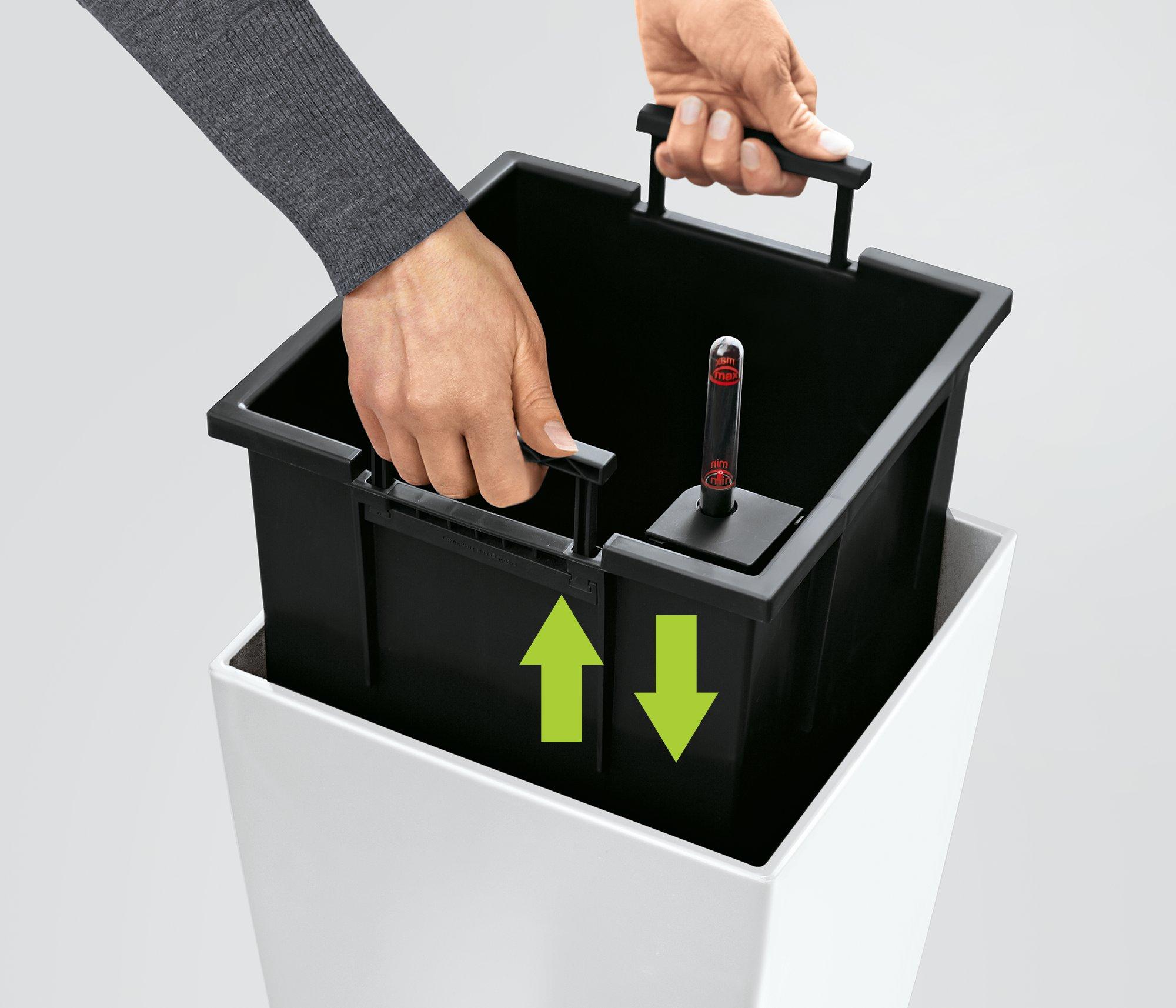 CUBICO planter liner
sturdy carrying handles (patented)
easy transport even for tall plantings
can be exchanged on the spot
easily moved for space-saving winter storage
The CUBICO 30 planter liner also fits in the TRIO 30, the CUBICO 40 and ALTO planter liner also fit in the CUBE 40 and TRIO 40.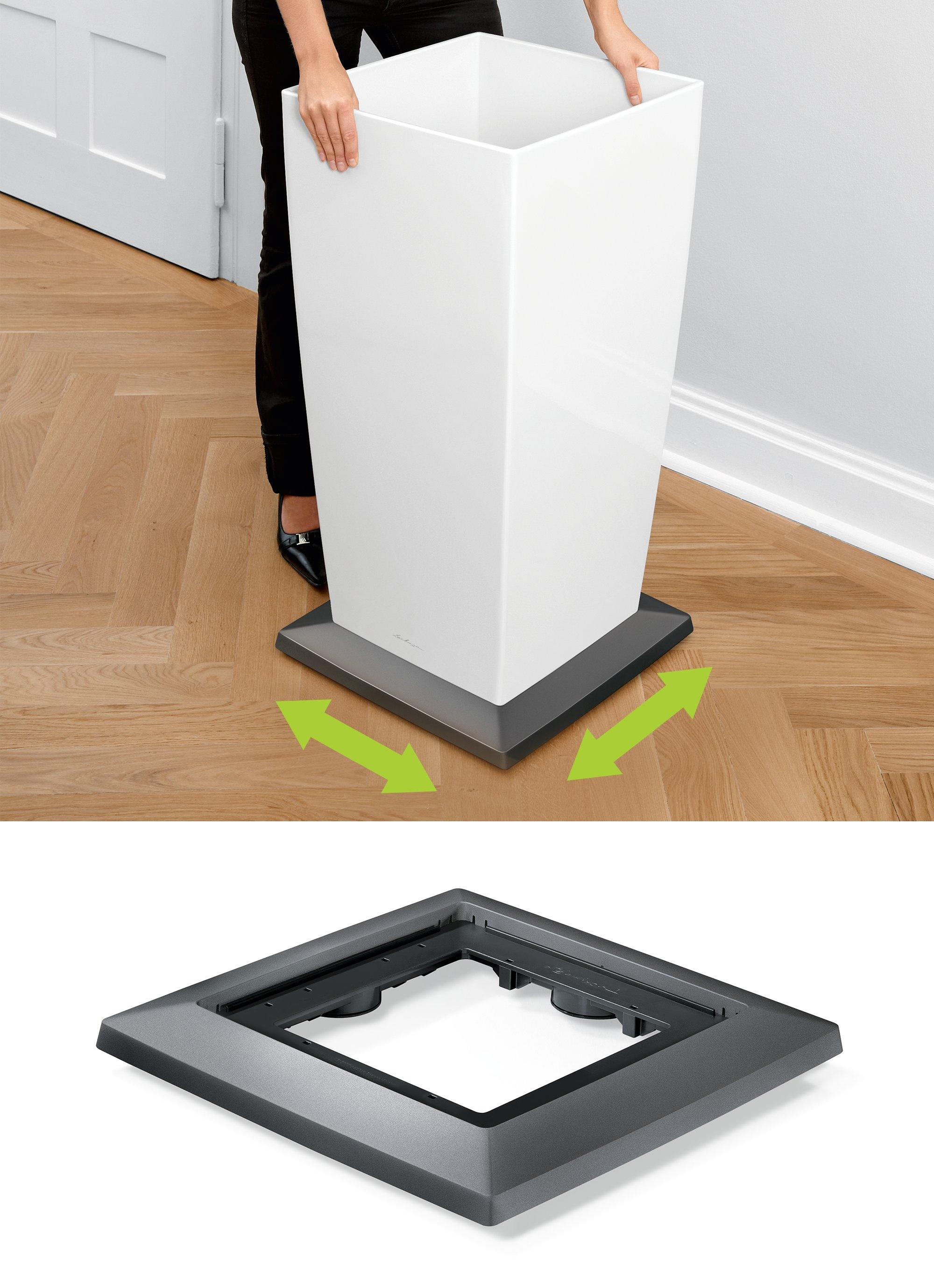 Available accessories: CUBICO Coaster
mobile in every direction
with four sturdy rollers
available for CUBICO 30 and 40
Dimensions & Capacity
| | | | | |
| --- | --- | --- | --- | --- |
| | CUBICO 22 | CUBICO 30 | CUBICO 40 | CUBICO 50 |
| Dimensions ~ (W x D x H) | 22 x 22 x 41 cm | 29,5 x 29,5 x 56,5 cm | 39,5 x 39,5 x 75,5 cm | 50 x 50 x 94 cm |
| Water reservoir | 2 l | 4 l | 7,5 l | 14 l |
| Plant volume | 6 l | 14 l | 31 l | 61 l |
| Planter liner, dimension ~ | 18,5 x 18,5 cm | 25 x 25 cm | 34,5 x 34,5 cm | 44 x 44 cm |
| Planting depth | 17,5 cm | 23 cm | 28 cm | 32 cm |
| Plant height max. | 50 cm | 60 cm | 100 cm | 160 cm |
CUBICO 40
| | |
| --- | --- |
| Dimensions ~ (W x D x H) | 39,5 x 39,5 x 75,5 cm |
| Water reservoir | 7,5 l |
| Plant volume | 31 l |
| Planter liner, dimension ~ | 34,5 x 34,5 cm |
| Planting depth | 28 cm |
| Plant height max. | 100 cm |
CUBICO 22
| | |
| --- | --- |
| Dimensions ~ (W x D x H) | 22 x 22 x 41 cm |
| Water reservoir | 2 l |
| Plant volume | 6 l |
| Planter liner, dimension ~ | 18,5 x 18,5 cm |
| Planting depth | 17,5 cm |
| Plant height max. | 50 cm |
CUBICO 30
| | |
| --- | --- |
| Dimensions ~ (W x D x H) | 29,5 x 29,5 x 56,5 cm |
| Water reservoir | 4 l |
| Plant volume | 14 l |
| Planter liner, dimension ~ | 25 x 25 cm |
| Planting depth | 23 cm |
| Plant height max. | 60 cm |
CUBICO 50
| | |
| --- | --- |
| Dimensions ~ (W x D x H) | 50 x 50 x 94 cm |
| Water reservoir | 14 l |
| Plant volume | 61 l |
| Planter liner, dimension ~ | 44 x 44 cm |
| Planting depth | 32 cm |
| Plant height max. | 160 cm |