CILINDRO Cottage 32 white
elegant column planter with wicker effect
The CILINDRO Cottage country style planter effectively showcases plants in a smart and stylish way. Its woven design makes it the perfect accessory for a country ambience. From a flowering orchid on a sideboard in the CILINDRO 23 to a large green plant as a decorative eye-catcher in the CILINDRO 32 - both sizes allow numerous design options individually adapted to your own style.

The classic colours such as white or granite present the lush green of the houseplants in a modern and timeless way. The woven look in mocha or sand brown emphasises a natural aesthetic. The column shape brings plants to eye level and sets them artistically in the scene.

For optimal plant growth, the CILINDRO is equipped with the proven LECHUZA irrigation system. The 1.7 or 4 litre water reservoir provides water for the plants according to their need. Thanks to the practical overflow function, there is no risk of waterlogging in the planter, even when used outdoors.

The woven look creates a homely ambience - wilst at the same time being unbreakable, light and ready for immediate use. CILINDRO is available as an "all-in-one" set with planter, planter liner, water level indicator as well as plant substrate.
Product information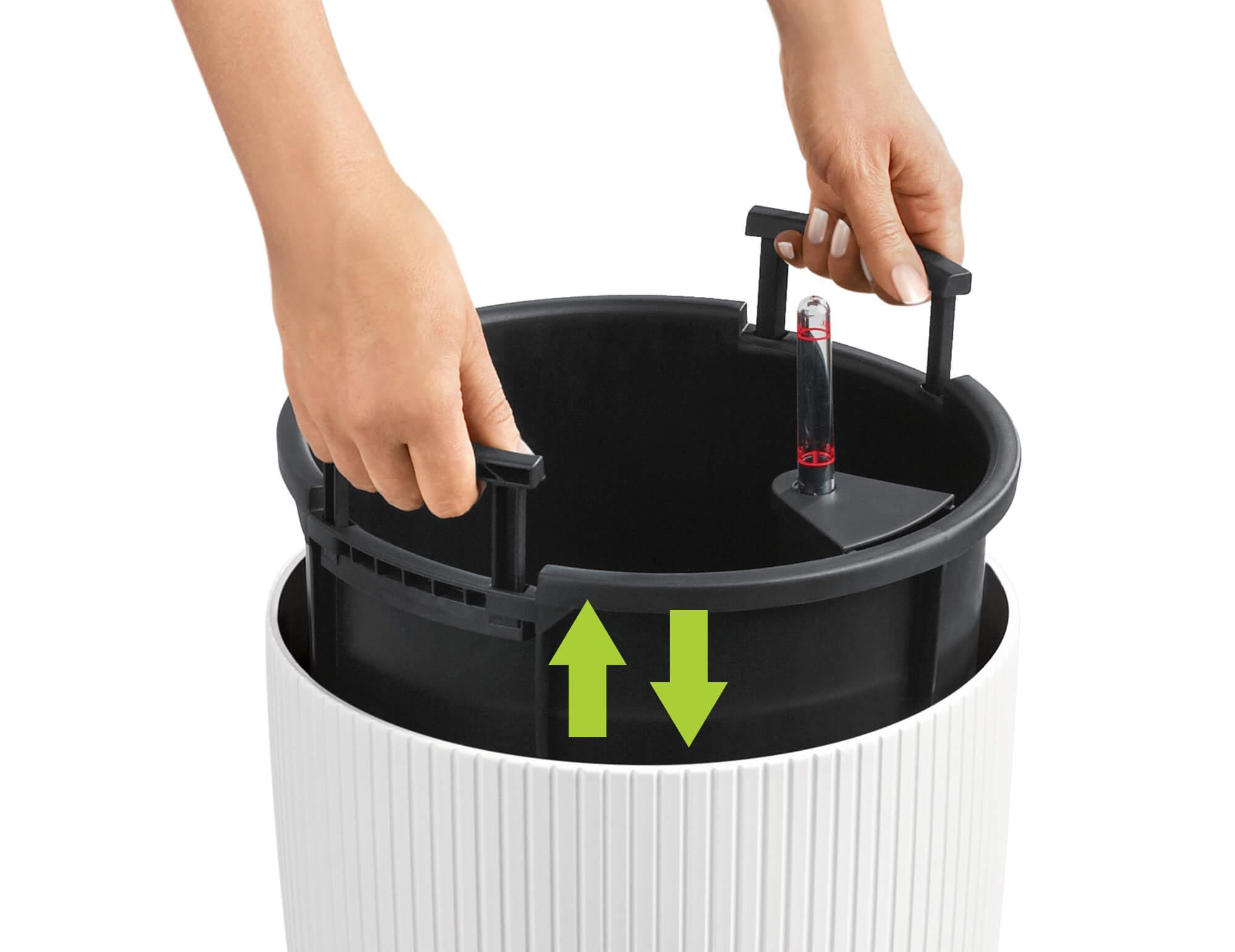 CILINDRO planter liner
sturdy carrying handles (patented)
easy transport even for tall plantings
can be exchanged on the spot and easily moved for winter storage
drain plug is removed to allow excess rainwater to drain when used outdoors
Dimensions & Capacity
| | | |
| --- | --- | --- |
| | CILINDRO Cottage 23 | CILINDRO Cottage 32 |
| Dimensions ~ (W x H) | Ø 23 x 41 cm | Ø 32 x 56 cm |
| Water reservoir | 1,5 l | 4 l |
| Plant volume | 5,5 l | 13 l |
| Planter liner, dimension ~ | Ø 19,5 cm | Ø 27,5 cm |
| Planting depth | 17,5 cm | 23 cm |
| Plant height max. | 40 cm | 60 cm |
CILINDRO Cottage 32
| | |
| --- | --- |
| Dimensions ~ (W x H) | Ø 32 x 56 cm |
| Water reservoir | 4 l |
| Plant volume | 13 l |
| Planter liner, dimension ~ | Ø 27,5 cm |
| Planting depth | 23 cm |
| Plant height max. | 60 cm |
CILINDRO Cottage 23
| | |
| --- | --- |
| Dimensions ~ (W x H) | Ø 23 x 41 cm |
| Water reservoir | 1,5 l |
| Plant volume | 5,5 l |
| Planter liner, dimension ~ | Ø 19,5 cm |
| Planting depth | 17,5 cm |
| Plant height max. | 40 cm |