CLASSICO Color ECO 35 dark grey
Time for green: 100% recycled
LECHUZA makes the world a little greener. Because the
CLASSICO Color ECO
combines sustainability, design and easy plant care in one planter. After the black planter liners of all LECHUZA planters are already made of 100% recycled material (PIR plastic*), the outer containers of the ECO line are also made of completely recycled plastic (PCR plastic**) for the first time. For this purpose, plastic waste is shredded into granulate in the recycling plant, melted down and then processed into the basic material for the ECO planters. In this way, recyclable waste is turned into a product of the usual high LECHUZA quality: the yoghurt pot, the foil or the plastic bottle becomes a stylish planter. This sustainable, closed recycling cycle saves fossil resources and raw materials.
The production relies on the proven LECHUZA quality. With the high processing standards, the planters of the ECO line are durable, break-proof and weather-resistant. Thus, the planters can make your home a bit more sustainable, both inside and outside. With the integrated original LECHUZA watering system, plant care becomes very easy. The plants provide themselves with all the necessary nutrients and the right amount of water as if by magic. It is available in the natural matt colours bright grey, grey and dark grey, which allows it to fit stylishly into any ambience. With the different sizes, there is a place for just about every plant.
The
CLASSICO Color ECO
is sustainably produced and made from fully recycled plastic. Its durability and simple, timeless design are a great choice for anyone who wants to make their home greener in every way.
*PIR = Post Industrial Recycled. PIR is a waste product from the industrial production of plastics.
**PCR = Post-Consumer Recycled. PCR plastic is made from discarded materials, which have been collected from households or industrial facilities, for example.
Available accessories from CLASSICO Color ECO 43:
Roller coaster
Product information
CLASSICO Color ECO
100% recycled and recyclable
Planter liner made of 100% PIR plastic*
Planter made from 100% PCR plastic**
Durable, unbreakable, weather resistant
Original LECHUZA irrigation system
Suitable for indoor & outdoor use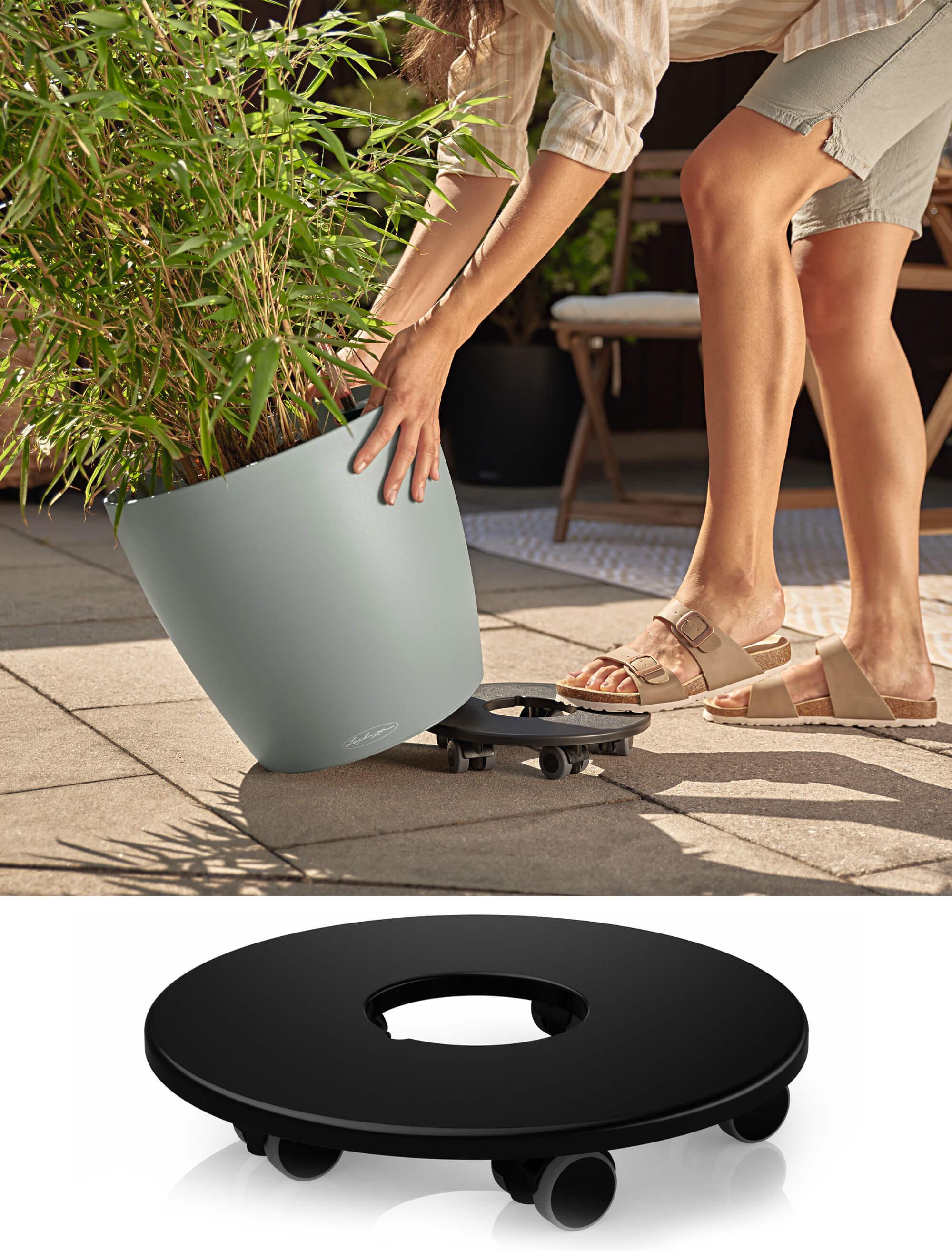 Available Accessories: Coaster
mobile in every direction
with sturdy rollers
makes CLASSICO mobile – without being seen
for size 43
Dimensions & Capacity
| | | | | | | |
| --- | --- | --- | --- | --- | --- | --- |
| | CLASSICO Color ECO 18 | CLASSICO Color ECO 21 | CLASSICO Color ECO 28 | CLASSICO Color ECO 35 | CLASSICO Color ECO 43 | CLASSICO Color ECO 60 |
| Dimensions ~ (W x H) | Ø 19 x 17 cm | Ø 21,5 x 20,5 cm | Ø 27,5 x 26 cm | Ø 34,5 x 32,5 cm | Ø 42,0 x 39,5 cm | Ø 60 x 55,5 cm |
| Water reservoir | 0,6 l | 0,8 l | 2 l | 3,7 l | 6 l | 17 l |
| Plant volume | 2,5 l | 5 l | 9 l | 17 l | 33 l | 90 l |
| Planter liner, dimension ~ | Ø 18 cm | Ø 21 cm | Ø 27 cm | Ø 33,5 cm | Ø 41 cm | Ø 57 cm |
| Planting depth | 11 cm | 13,5 cm | 17,5 cm | 22,5 cm | 26,5 cm | 38,5 cm |
| Plant height max. | 30 cm | 50 cm | 70 cm | 90 cm | 100 cm | 140 cm |
CLASSICO Color ECO 35
| | |
| --- | --- |
| Dimensions ~ (W x H) | Ø 34,5 x 32,5 cm |
| Water reservoir | 3,7 l |
| Plant volume | 17 l |
| Planter liner, dimension ~ | Ø 33,5 cm |
| Planting depth | 22,5 cm |
| Plant height max. | 90 cm |
CLASSICO Color ECO 18
| | |
| --- | --- |
| Dimensions ~ (W x H) | Ø 19 x 17 cm |
| Water reservoir | 0,6 l |
| Plant volume | 2,5 l |
| Planter liner, dimension ~ | Ø 18 cm |
| Planting depth | 11 cm |
| Plant height max. | 30 cm |
CLASSICO Color ECO 21
| | |
| --- | --- |
| Dimensions ~ (W x H) | Ø 21,5 x 20,5 cm |
| Water reservoir | 0,8 l |
| Plant volume | 5 l |
| Planter liner, dimension ~ | Ø 21 cm |
| Planting depth | 13,5 cm |
| Plant height max. | 50 cm |
CLASSICO Color ECO 28
| | |
| --- | --- |
| Dimensions ~ (W x H) | Ø 27,5 x 26 cm |
| Water reservoir | 2 l |
| Plant volume | 9 l |
| Planter liner, dimension ~ | Ø 27 cm |
| Planting depth | 17,5 cm |
| Plant height max. | 70 cm |
CLASSICO Color ECO 43
| | |
| --- | --- |
| Dimensions ~ (W x H) | Ø 42,0 x 39,5 cm |
| Water reservoir | 6 l |
| Plant volume | 33 l |
| Planter liner, dimension ~ | Ø 41 cm |
| Planting depth | 26,5 cm |
| Plant height max. | 100 cm |
CLASSICO Color ECO 60
| | |
| --- | --- |
| Dimensions ~ (W x H) | Ø 60 x 55,5 cm |
| Water reservoir | 17 l |
| Plant volume | 90 l |
| Planter liner, dimension ~ | Ø 57 cm |
| Planting depth | 38,5 cm |
| Plant height max. | 140 cm |