DELTA 20 white high-gloss
Plenty of space for plants in small areas
Please note that due to the high data volume, the 3D viewer should be loaded with an existing WLAN connection. On mobile devices, the viewer allows you an augmented reality (AR) function. You can visualize a LECHUZA planter in your room. To do so, please click on the cube icon.
The DELTA 10 and 20 planters offer plants plenty of space in a small space. On narrow window sills, sideboards or as an beautiful decoration on the dinner table, the slender planters set green and flowering plants perfectly into a space. With their rounded, slender shape, they mesh perfectly even on small surfaces and, in five harmonious colour shades, they also blend into existing decoration concepts.

Thanks to the plant insert, the planting can be changed quickly and effortlessly and can be rearranged in a flash for seasonal occasions.
Product information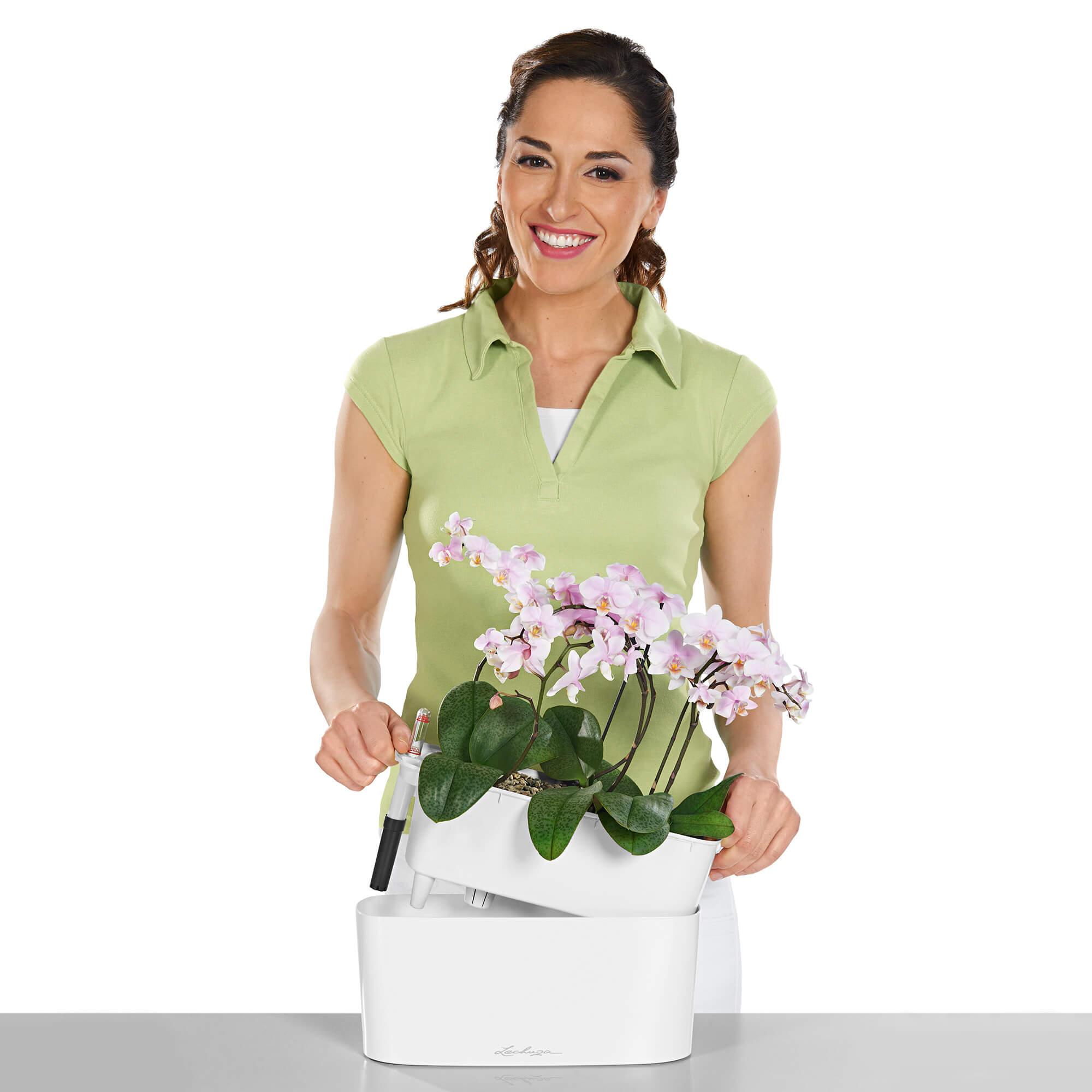 Planter liner
planter liner in the same colour as the planter
can be exchanged on the spot
change plants, repot them, trim the roots or rinse the leaves
Dimensions & Capacity
| | | |
| --- | --- | --- |
| | DELTA 10 | DELTA 20 |
| Dimensions ~ (W x D x H) | 30 x 11 x 13 cm | 40 x 15 x 18 cm |
| Water reservoir | 0,6 l | 2 l |
| Plant volume | 2 l | 5 l |
| Planter liner, dimension ~ | 26 x 9 cm | 34 x 12,5 cm |
| Planting depth | 8,5 cm | 12 cm |
| Plant height max. | 20 cm | 20 cm |
DELTA 20
| | |
| --- | --- |
| Dimensions ~ (W x D x H) | 40 x 15 x 18 cm |
| Water reservoir | 2 l |
| Plant volume | 5 l |
| Planter liner, dimension ~ | 34 x 12,5 cm |
| Planting depth | 12 cm |
| Plant height max. | 20 cm |
DELTA 10
| | |
| --- | --- |
| Dimensions ~ (W x D x H) | 30 x 11 x 13 cm |
| Water reservoir | 0,6 l |
| Plant volume | 2 l |
| Planter liner, dimension ~ | 26 x 9 cm |
| Planting depth | 8,5 cm |
| Plant height max. | 20 cm |