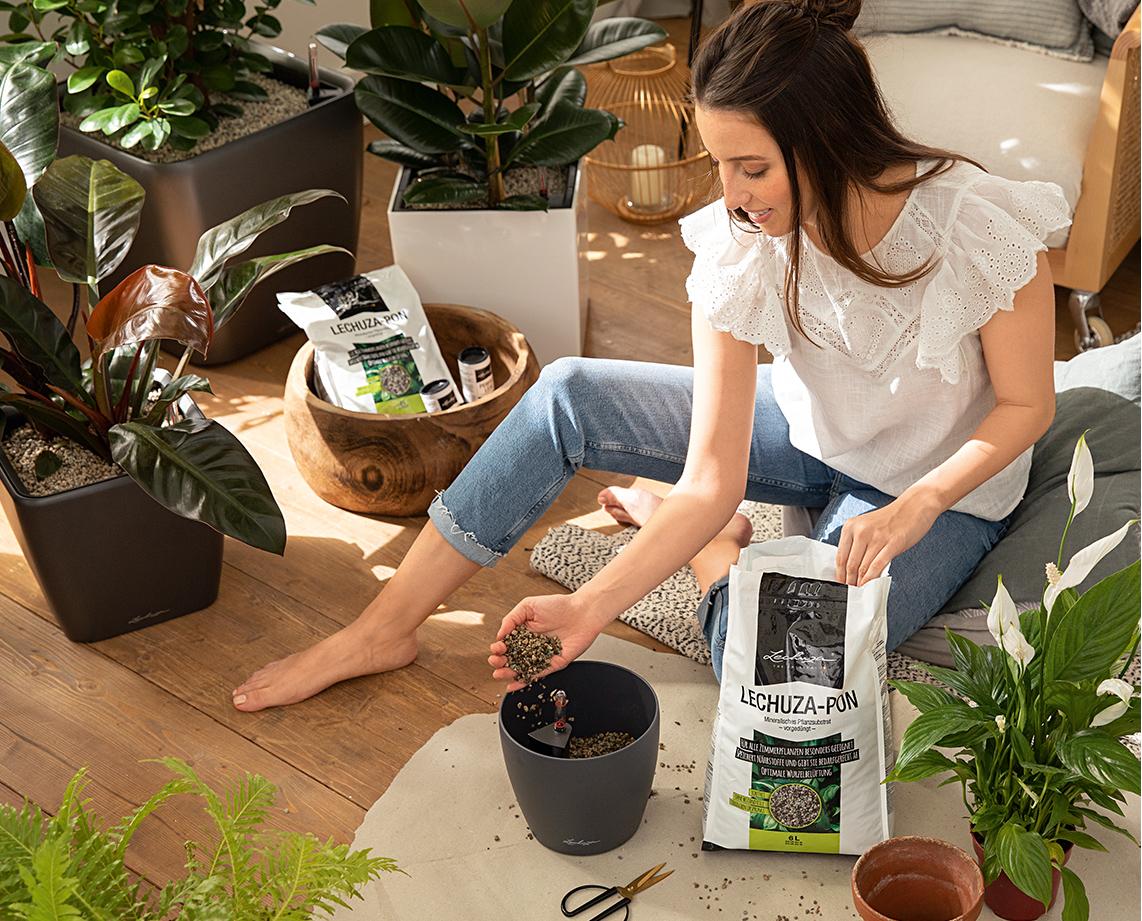 The best alternative to normal soil
Light? Yes! Water? Got it! An adequately sized planter? Check! Now all you need is the optimum soil for the perfect plant experience and you're sure to find the right one from our selection of four exclusive plant substrates!
• Even distribution of nutrients
• Keeps for years, no need to replace
• Optimum supply of air and water
• Simple, clean filling


LECHUZA-PON is part of the LECHUZA irrigation system. Due to its good properties, all substrates can of course be used in conventional planters and other types of planting systems.
All-rounders
Discover the new planting substrates from LECHUZA


Mineral plant substrate with slow release fertilizer
for all indoor plants
The mineral plant substrate LECHUZA-PON is the heart of the original LECHUZA irrigation system. It offers plants an optimal air-water ratio, a stable pH value and acts as a storage for water, nutrients and fertilizer which it releases back to the plants as needed and individually. Thanks to the excellent drainage capacity of the mineral substrate, waterlogging water does not stand a chance.

LECHUZA-PON consists of high-quality zeolites, pumice and light lava and remains structurally stable - because compared to soil, PON can neither compact nor clump. Due to its pure mineral base, the substrate offers no surface for fungi or pests to attack and is therefore ideal for allergy sufferers. The best Choice for your indoor plants!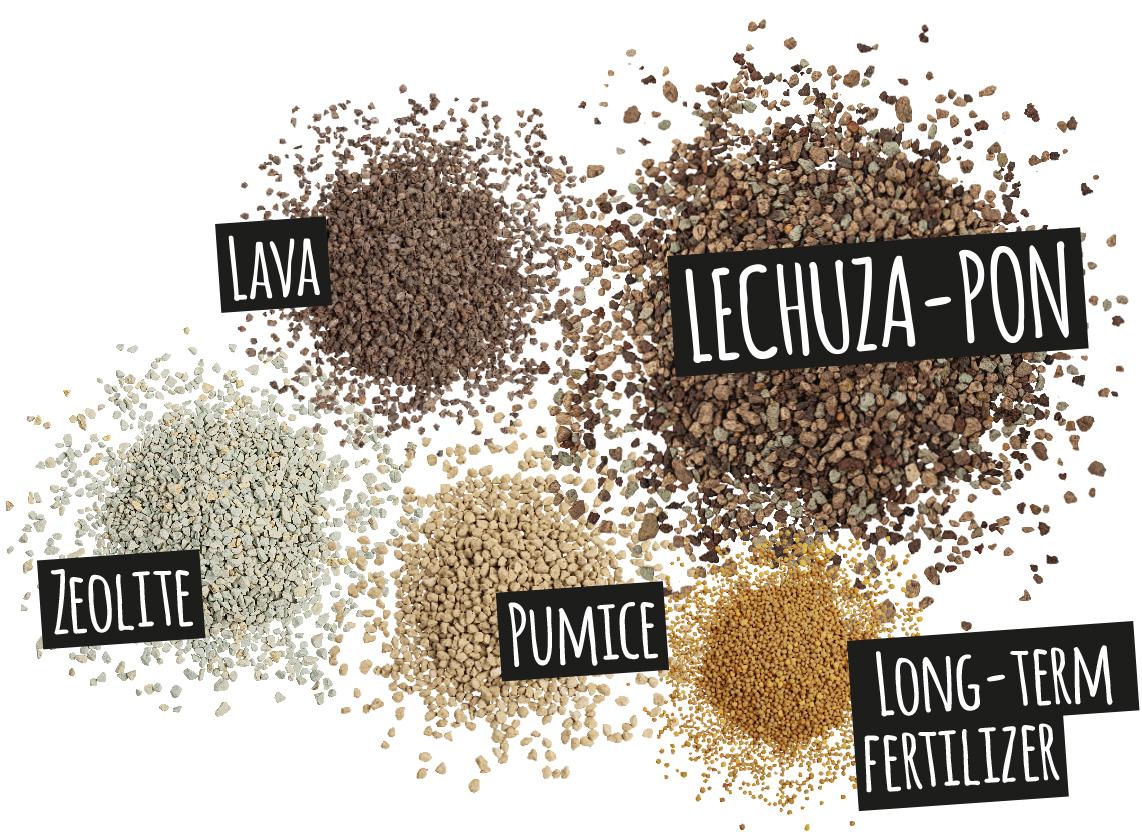 High-quality potting substrate
The proven TERRAPON in professional quality is the ideal substrate for all potted plants and is particularly suitable for outdoor use.

It ensures an optimal air-water ratio and is pre-fertilized. Thus it releases nutrients to the potted plants evenly over a period of 6 to 8 months.

For the sake of the environment, TERRAPON is now peatfree. The new, finely balanced composition ensures healthy, strong plants.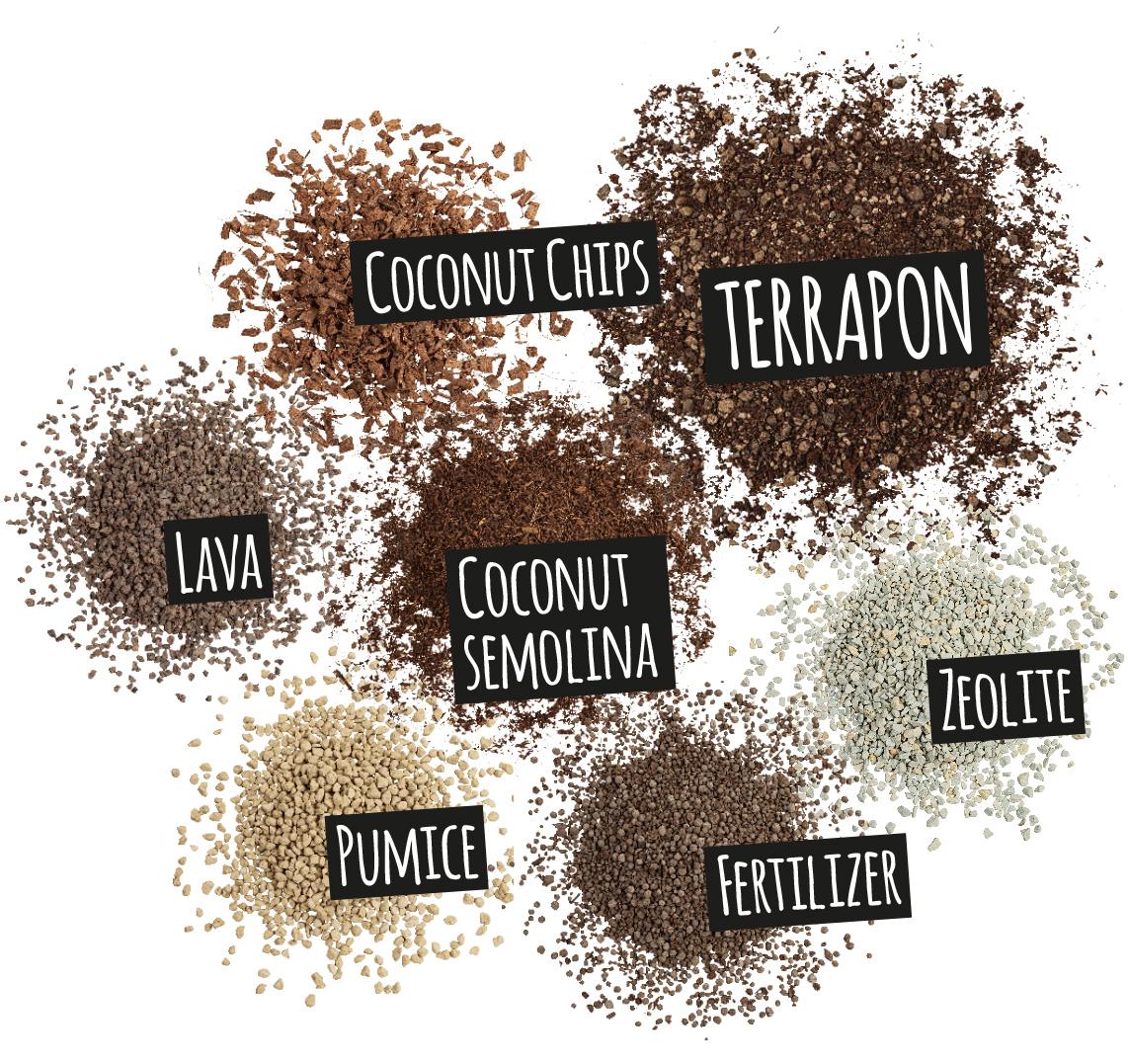 Nutrient-rich plant substrate
for vegetables and herbs
Urban Gardening and Urban Farming are trends that have now taken root and become firmly established in the green industry. Reason enough for LECHUZA to introduce VEGGIEPON, the first substrate specially developed for growing vegetables that is 100% vegan.

The nutrient-rich VEGGIEPON is enriched with completely vegan fertilizer and premium vegetable carbon for best results. We take advantage of the traditional Terra Preta principle. For a rich harvest in harmony with nature..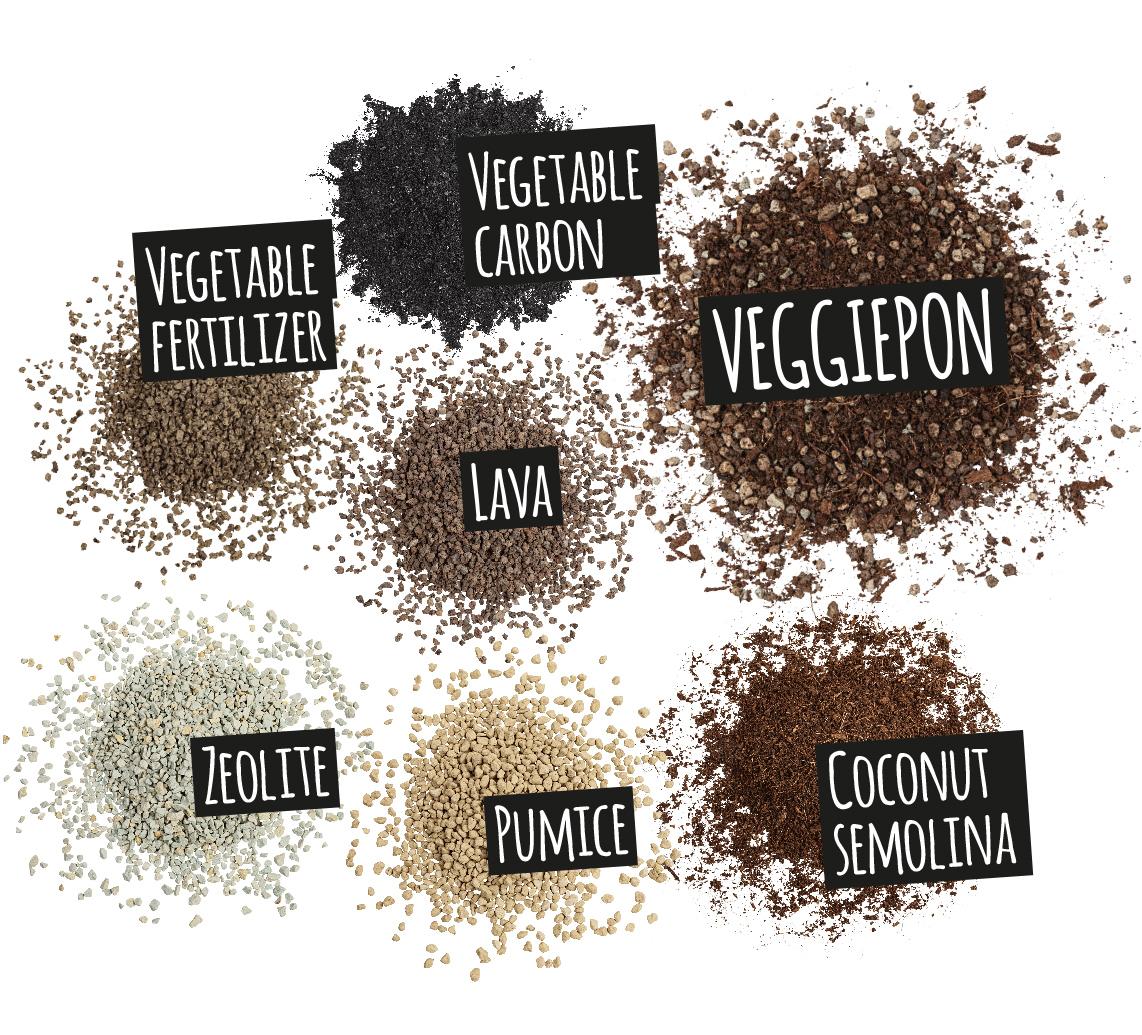 Special substrate for orchid
ORCHIDPON is a further development of the well-known LECHUZA-PON and is specially designed for the needs of orchids. The added humic granulate lowers the pH-value in the soil and thus creates a slightly acidic soil environment, which is preferred by orchids, among others. This and the added nutrients promote the metabolism and stimulate the plant to produce flowers.

ORCHIDPON enables a balanced water and air supply, good nutrient storage and a constant pH value.

The first-class drainage capability protects against waterlogging. This makes orchids feel comfortable and provides them with the best all-round care.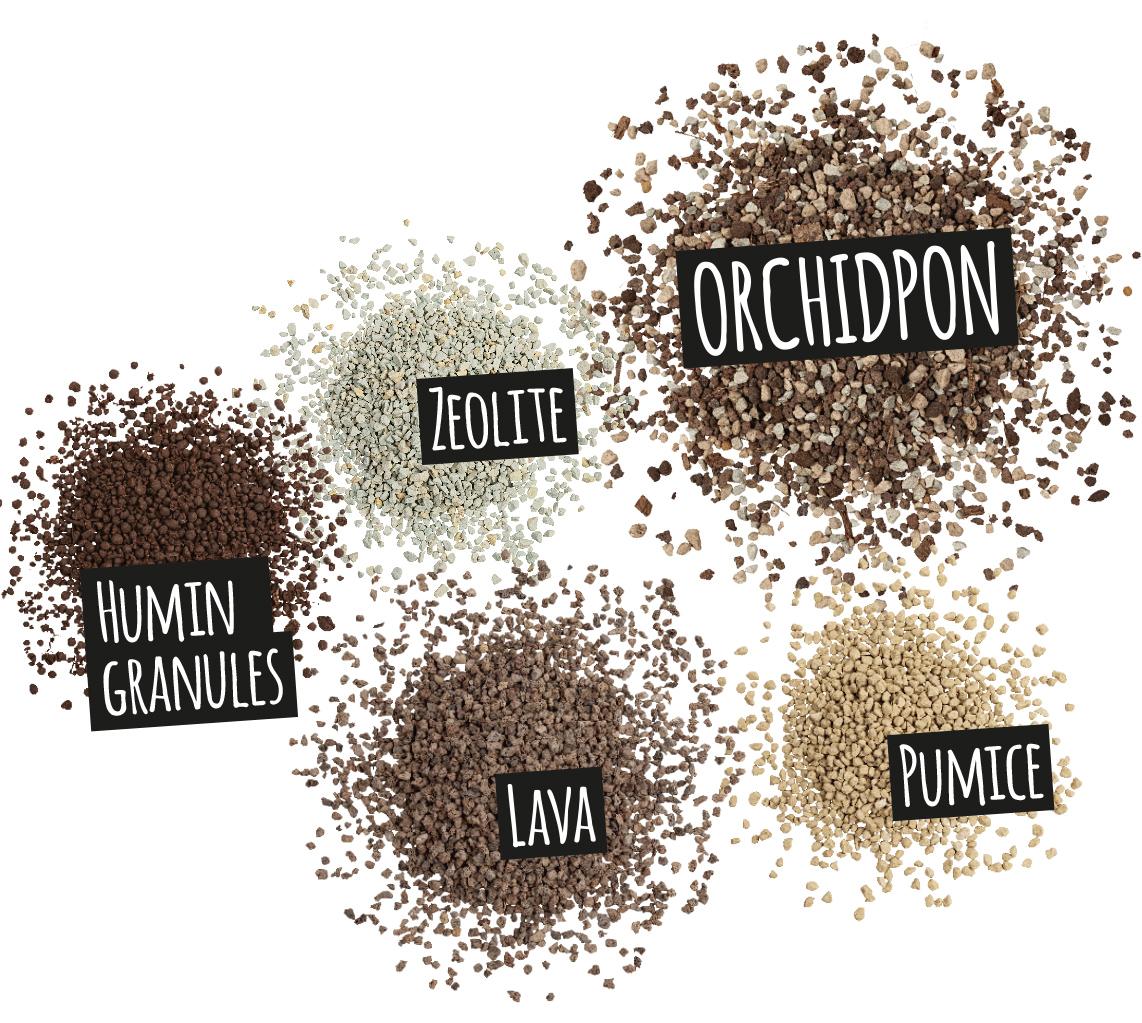 Mineral planting substrate, without fertilizer.
In order to help every type of plant achieve optimal growth, the range of planting substrates is being expanded by BASICPON. The special substrate relies on the proven composition of LECHUZA-PON, but is completely free of fertilizers and therefore the ideal alternative to conventional potting soil, especially for sensitive plants or for growing cuttings and offshoots.

It can be used as a sole planting substrate or it can be added to conventional soil. BASICPON is structurally stable, supports root aeration and optimally doses the water supply.