Edible flowers
Delicious throughout the garden year
Emulate the TV chefs and bloggers and use edible flowers in food and drinks! Many pretty flowers can be candied and preserved for a certain amount of time. Edible flowers are also really good savoury in butter, homemade bread or cream cheese dips.

We have prepared a few delicious recipes for original ice cubes, pretty pastry decorations and colourful salads for you. Turn your kitchen creations into real trend food!

Floral enjoyment guaranteed!
In addition to roses, violets and daisies, there are many other flowers and plants that give us their edible, colourful blossoms. Here are our favourites:
daisies (Bellis perennis), nasturtium (Tropaeolum majus), scented geraniums (Pelargonium), signet marigolds (Tagetes tenuifolia), roses (Rosaceae), lavender (Lavandula angustifolia), horned violet (Viola cornuta), lilac (Syringa vulgaris), cornflower (Cyanus segetum), dandelion (Taraxacum)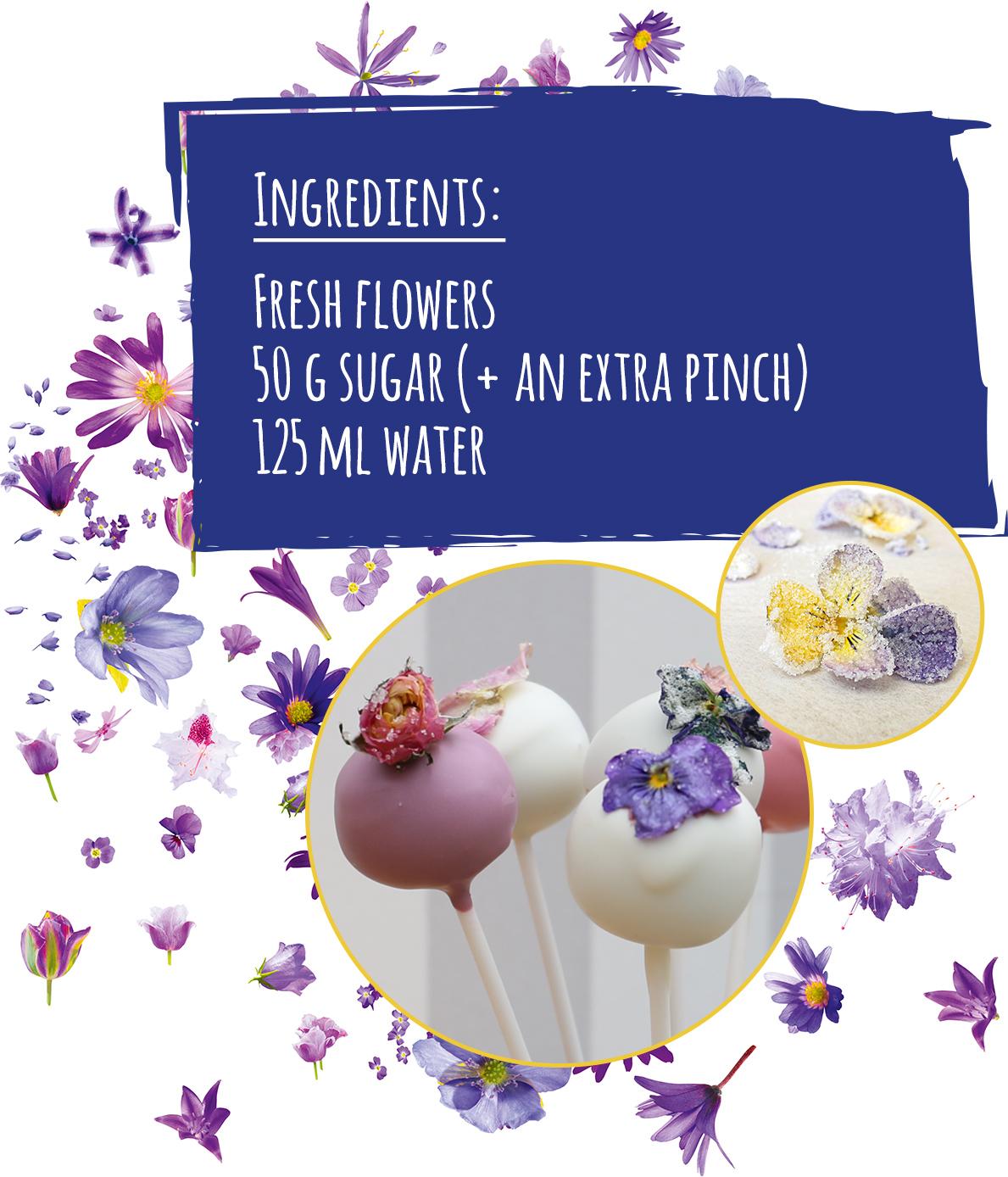 Candied flowers
Sugar-sweet decorative ideas from the garden
Boil 50 g sugar in 125 ml water to form a syrup, then let it cool down.

Dip the flowers carefully into the syrup with a fork and place on a baking tray.

Let the syrup harden slightly and sprinkle some extra sugar over the flowers.

Leave to harden thoroughly for approx. 1 to 2 weeks – done!
Herbs can also be easily candied using the same principle to create particularly interesting compositions.

Tip: Place the flowers in a muffin tin to harden – that way, they keep their shape!

Ice cubes with herbs, berries and flowers
A kick of flavour for refreshing drinks
Frozen herbs not only look great, they also give every drink an exciting nuance of flavour. All kinds of herbs such as rosemary, basil, mint and thyme are suitable for use in the ice cubes.

Quick to make: Pick the leaves. Fill the ice cube mould with water, add the leaves and place it in the freezer. Ice cubes with edible flowers or small berries (e.g. blueberries, currants or raspberries) do not have such an intense flavour – but they are particularly beautiful to look at.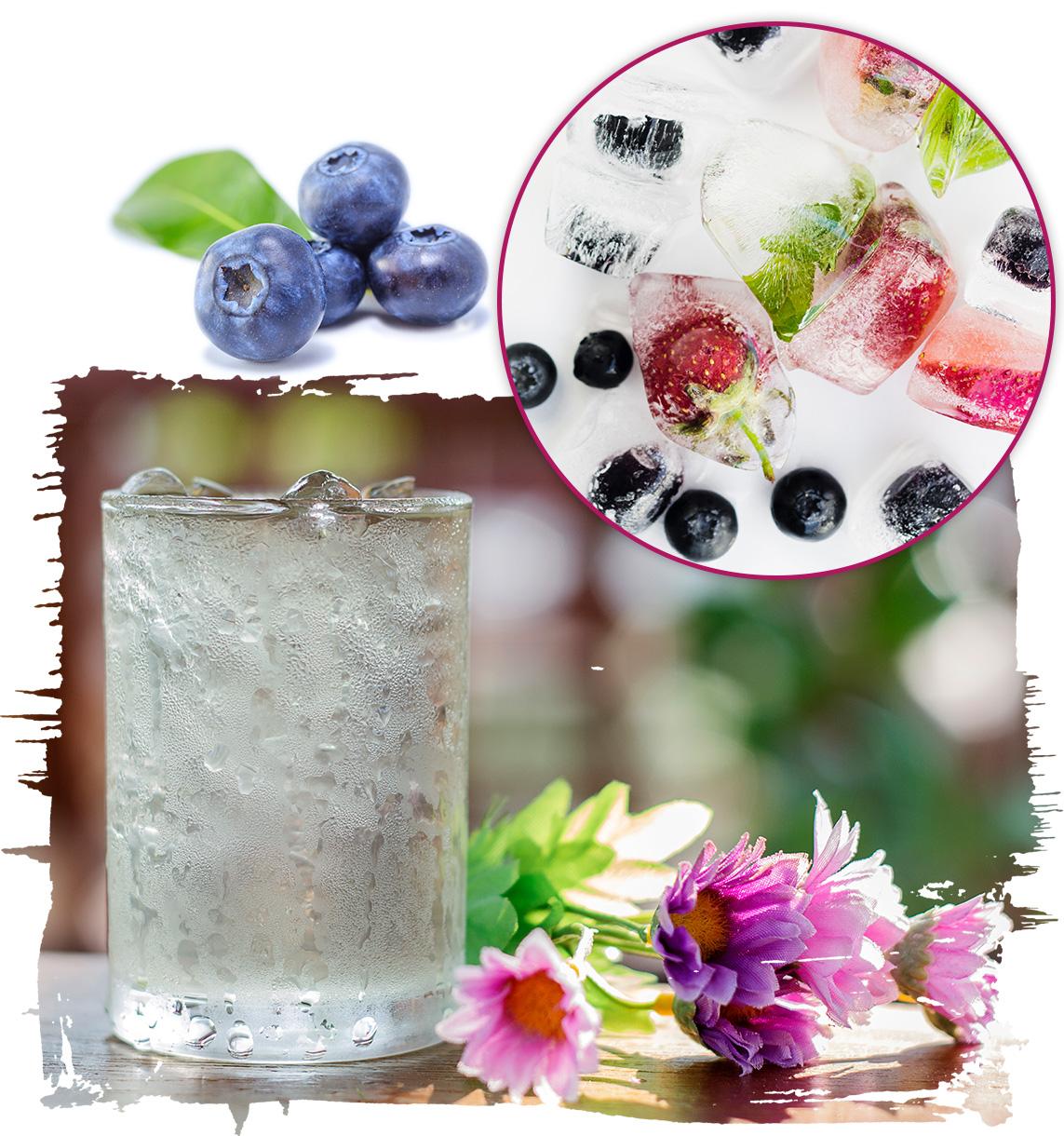 Colourful flower salad
Delicious, healthy and pretty to look at!
Use flowers based on the season and what is currently flowering in your garden.
The flowers of nasturtium, borage flowers, violets, roses, forget-me-not, common marigolds, edible chrysanthemums, signet marigolds, daisies, sage flowers, viper's bugloss and chive flowers, for instance, are tasty and attractive.

You can combine these flowers with all kinds of leaf salad – there are no limits to your creativity.

How to do it: Prepare the dressing and put it to one side. Wash the salad and add the flowers on top. Only pour the dressing over the salad shortly before eating, otherwise it can soften the flowers and the beautiful look is lost. For even more flavour, brown the walnuts briefly in a pan without oil.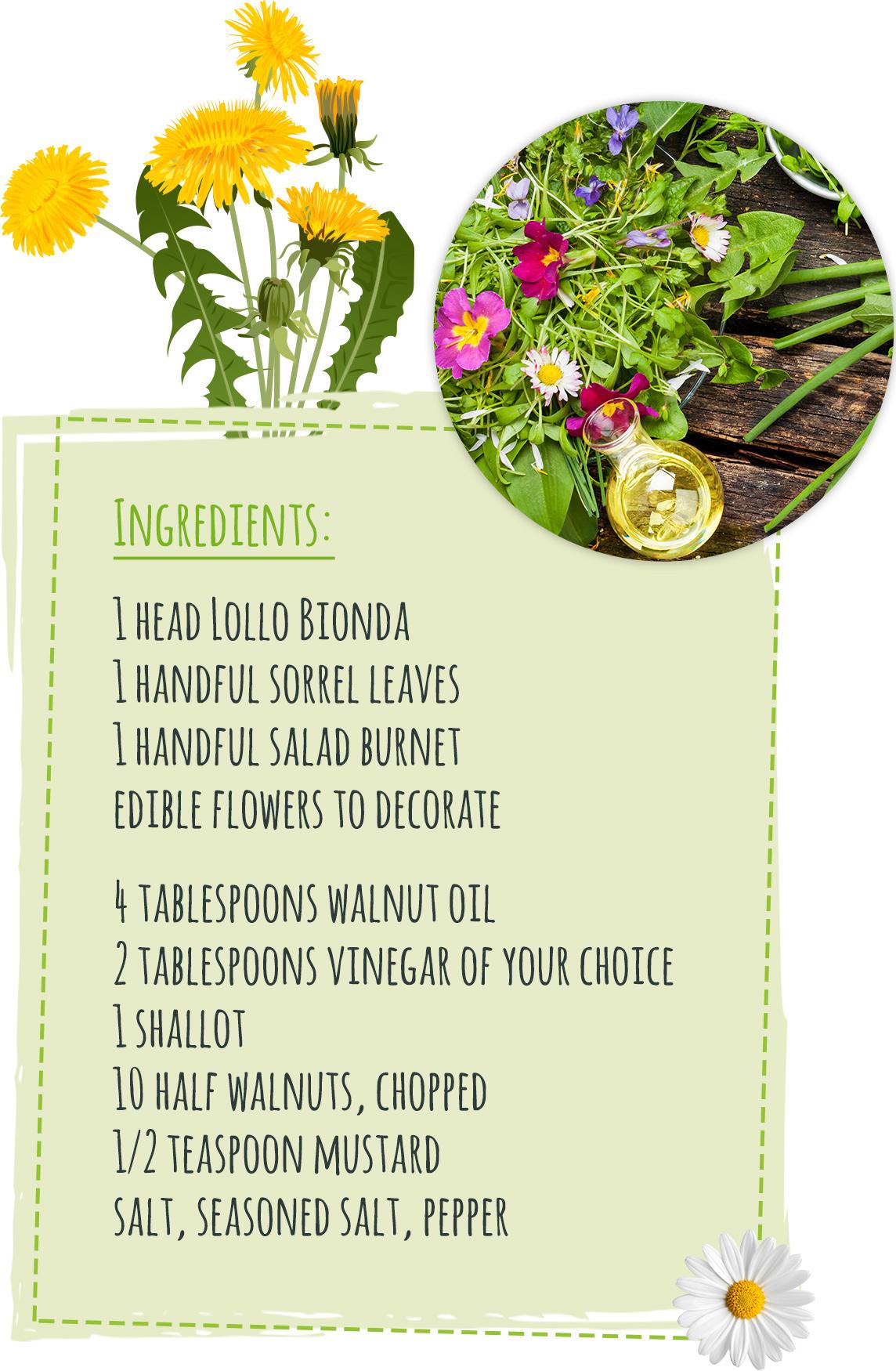 Perfect home for lavender, rose, nasturtium and the like: